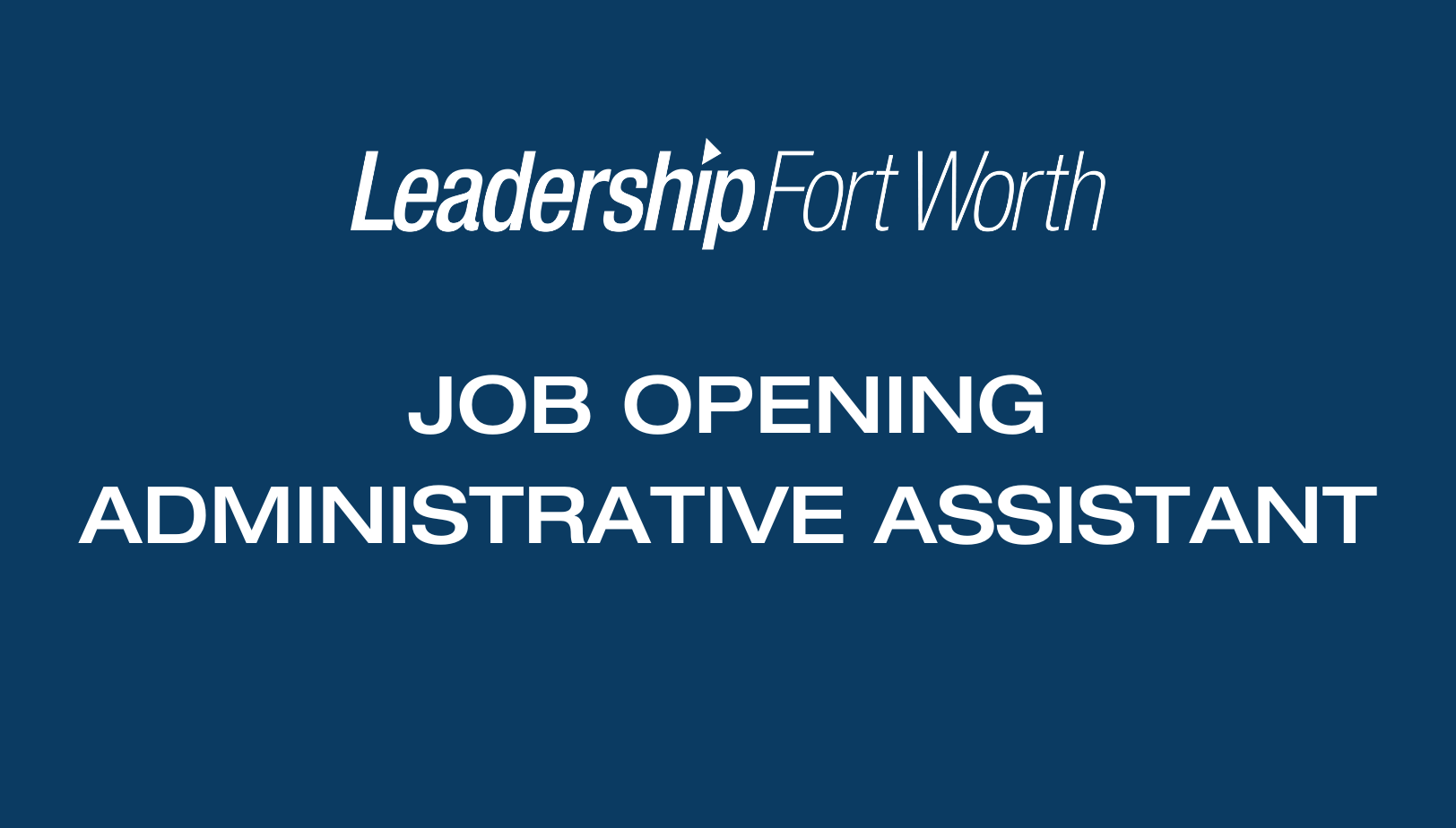 Job Opening – Administrative Assistant
November 11, 2022 | By LFW
Position Title:  Administrative Assistant
Category:  Part-time, hourly (anticipate an average of 20-25 hours per week)
Direct Supervisor:  Executive Director (ED)
Office Location:  Hybrid work environment which includes in-person work at the Leadership Fort Worth's office at WeWork-Clearfork, Board meeting locations, program sites along with flexibility for remote work
Organization Summary:
Leadership Fort Worth (LFW) was established in 1972 as a resource for community leadership succession planning, with the first Leadership Class graduating in 1973. The five founding organizations were the Fort Worth Chamber of Commerce, Fort Worth Junior League, Texas Christian University, Texas Wesleyan University, and the University of Texas at Arlington. Texas Electric, now Oncor, provided needed in-kind support.
Since 1973, LFW has graduated nearly 4,000 participants across all programs. Many LFW Alumni are leaders not only in government but a wide variety of volunteer and appointed roles. LFW is among the oldest community leadership development organizations in the country and consists of four programs: LeadershipClass, LeadingEdge, LeaderKids, and LeaderPrime. LFW is a proud member of the Association of Leadership Programs (ALP) and was recognized with its Excellence in Innovation award in 2015.
It's an exciting time to join LFW under the leadership of Executive Director, Jennifer Treviño, who became LFW's third Executive Director in January 2021 and as LFW celebrates its 50th anniversary in 2023.
Mission:  To educate, empower, and connect diverse leaders who serve as catalysts for a vibrant and sustainable community.
Tagline:  Providing Fort Worth with diverse and enlightened leadership
Vision:  A community where everyone has the opportunity to be a leader and to serve the greater good.
Values:  Trusteeship, Diversity, Integrity, Vision and Innovation
Position Description:
The Administrative Assistant supports the Executive Director of Leadership Fort Worth and coordinates much of the administrative tasks for the organization.  A person will be successful in this role if they are able to keep up with the ED on a regular basis, anticipate needs and share a willingness to learn, advance our mission and support Fort Worth's leadership pipeline.
Job Responsibilities:
Provide administrative support to the Executive Director and on behalf of the organization.  Duties include:
Scheduling and logistical coordination and support for Board of Directors meetings, committee meetings, staff meetings, donor/funder meetings, etc. including agenda prep, note taking, creating/maintaining rosters
Preparing written correspondence, reports and presentations as needed as well as proofreading of documents
Project coordination in partnership with the ED and collaboration with the LFW team
Creating and maintaining records (both electronic and physical as required) for the ED and LFW
Partnering with our finance team to support budget tracking
Supporting organizational fundraising activities through documentation, tracking and reporting
Miscellaneous administrative tasks such as ordering supplies, facilitating IT support, managing organizational software licenses, maintaining vendor account information, including login credentials
Required Knowledge, Skills, and Abilities
Job Requirements:
Excellent communication (written and verbal) skills
Strong organizational skills with the ability to manage competing timelines and projects with ease and under pressure without losing sight of the details
Ability to plan ahead and take appropriate initiative to troubleshoot and problem-solve
Professional, inclusive and service-oriented approach to stakeholder interactions with Board members, alumni, donors, vendors and the community at-large
Proficiency in Microsoft Office 365 applications including Word, PowerPoint, Excel
Ability to work a flexible schedule including some early mornings, evenings and occasionally on weekends (LFW's general business hours are Monday-Friday, 9:00 am-5:00 pm)
Education and Experience:
High School Diploma or GED required
Minimum of 2 years related experience required
Demonstrated experience with:
Supporting high-level leaders and teams
Project management
Preparing correspondence, meeting agendas, meeting minutes, logistics for meetings and related tasks
Scheduling and coordinating meetings for leaders, teams, Boards or other similar groups
Preferred Skills and Experience:
Nonprofit or membership organizational experience
Donor database management experience such as Neon
Graphic design (Canva, Adobe, etc.), e-newsletter creation (MailChimp) and social media experience (HootSuite – Facebook, Instagram, LinkedIn, Twitter and YouTube)
Physical Demands:
This position requires the ability to operate phones, computers, and other office equipment, and the physical ability to perform light lifting. This person must be able to communicate effectively, both orally and in writing, with others. Work is typically performed in an office setting. This person will be required to travel to various locations throughout Fort Worth and Tarrant County. Generally, the working conditions have little or no exposure to extremes in safety hazards or hazardous materials.
These physical demands are representative of the physical requirements necessary for an Administrative Assistant to successfully perform the essential functions of the job. Reasonable accommodation can be made to enable people with disabilities to perform the described essential functions.
The intent of this position description is to provide a representative summary of the major duties and responsibilities performed by incumbent(s) in this position. Incumbent(s) may not be required to perform all duties in this description and incumbent(s) may be required to perform position-related tasks other than those specifically listed in this description.
Equal Employment Opportunity:
Leadership Fort Worth provides equal employment opportunities to all employees and applicants for employment and prohibits discrimination and harassment of any type without regard to race, color, religion, age, sex, national origin, disability status, genetics, protected veteran status, sexual orientation, gender identity or expression, or any other characteristic protected by federal, state or local laws.
Compensation:
This position's pay starts at $17 per hour. LFW Team members are paid twice per month.
Applications:
Interested candidates should submit a cover letter and resume via email to:
Jennifer Treviño, Executive Director at jennifer.trevino@leadershipfortworth.org.
Learn more about Leadership Fort Worth by visiting www.leadershipfortworth.org and following us on Facebook, Instagram, LinkedIn, Twitter and YouTube.