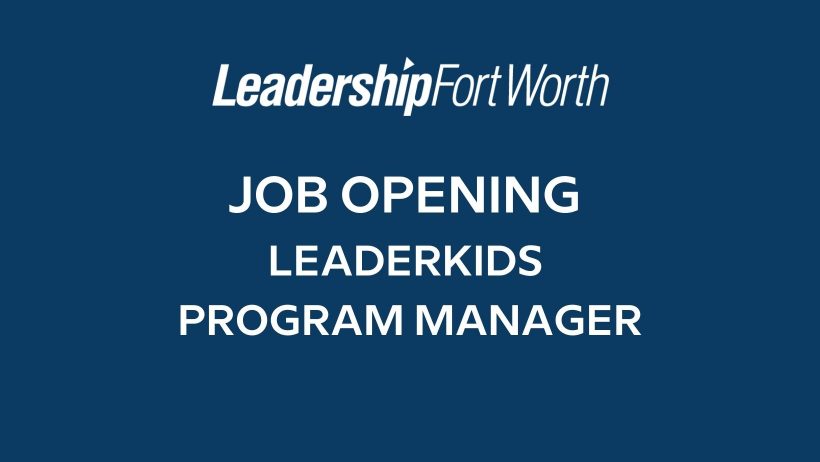 Job Opening – LeaderKids Program Manager
May 5, 2023 | By LFW
Mission: provide Fort Worth with diverse and enlightened leadership
Position Title: LeaderKids Program Manager
Category:  Part-time employee
Supervisor:  Program Director, LeadershipClass and LeadingEdge
Collaborates with:  Program & Events Coordinator, Administrative Assistant and Executive Director
Office Location:  Work remotely, at program sites and Leadership Fort Worth's office at WeWork Clearfork
Organization Summary:
Leadership Fort Worth (LFW) was established in 1972 as a resource for community leadership succession planning, with the first Leadership Class graduating in 1973. The founding organizations were the Fort Worth Chamber of Commerce, Fort Worth Junior League, Texas Christian University, Texas Wesleyan University, and the University of Texas at Arlington. Texas Electric, now Oncor, provided needed in-kind support. LFW graduates total nearly 4,000 and are leaders not only in government but a wide variety of volunteer and appointed roles. LFW is among the oldest community leadership development organizations in the country and consists of four programs: LeadershipClass, LeadingEdge, LeaderKids, and LeaderPrime. LFW is a proud member of the Association of Leadership Programs (ALP) and was recognized with its Excellence in Innovation award in 2015. It's an exciting time to join LFW under the leadership of its new Executive Director, Jennifer Treviño who became LFW's third Executive Director in January 2021 and as the organization celebrates its 50th anniversary in 2023.
Position Description:
At Leadership Fort Worth, we believe everyone has a leader inside. Our youth program, LeaderKids, encourages middle-school students to develop leadership skills such as taking initiative, setting achievable goals, and becoming strong communicators.
What started in 1995 with a simple invitation by then Mayor Kay Granger to become involved with the "Our City, Our Children" initiative to make Fort Worth a "more child-friendly city" has become one of our most impactful programs.
LeaderKids is an operating program of Leadership Fort Worth in partnership with the Fort Worth Independent School District. Participants are select eighth-grade students representing middle schools in the school district, chosen with the assistance of the Intervention Specialists in the schools. The LeaderKids program offers well-rounded opportunities and experiences for participants to create future leaders.
The LeaderKids Program Manager guides and manages the LeaderKids program which has graduated over 1,200 students through the 2022 school year.
Currently, the LeaderKids program is centered assisting the students in  identifying  their Core Leadership Strengths, introducing students to alternative paths to entrepreneurship, group collaboration and processing and service learning.
Students can put these skills into practice through their annual Service Project to achieve the following objectives:
Understand the process of planning a project
Cultivate the skills of brainstorming, consensus building, decision making, resource management, collaboration, execution, and completion
Practice working with partners of different backgrounds having unique expertise and personalities
Contribute towards and improve the community in which they live
Major Areas of Responsibility:
80% of the role is focused on overseeing program planning, logistics, and implementation for LeaderKids:

Develop curriculum for LK in coordination with the Program Director and LFW team,
Communicate and coordinate with FWISD middle school counselors, administration, and parents of LK participants,
Communicate and coordinate with the TCU Leadership Center and the college student mentors,
Partner with the Program Director and LFW team on the LK Service Project and LK Alum activities,
Ensure LK Outcomes are met and oversee evaluation procedures, especially to support reporting to funders.
Provide content for website for LeaderKids and other LFW events as appropriate,

20% of this role is focused on these remaining areas:

Manage expenses in alignment with the budget for LeaderKids in partnership with the Program Director and Finance Manager
Support fundraising efforts for LeaderKids, through sponsorships or in-kind support for program days and grant/funder reporting.
Attend board meetings, board retreats, staff meetings, staff retreats, member events and fundraisers.
Attend and assist with LFW events as needed;
In addition to essential job elements and duties listed here, other duties may be assigned or assumed which are within the scope of the position of Program Manager – LeaderKids.
Specific Responsibilities of the Job:
Collaborate with Program Manager to manage execution of program schedule (a draft schedule of the 2023-2024 program year is under review with Fort Worth ISD and TCU)

Communicate the calendar for all elements of LeaderKids with appropriate stakeholders
Determine learning and praxis to be included within the program year
Participate in staff planning and meetings
Attend Board meetings as needed
Required Knowledge, Skills, and Abilities
Job Requirements:
Broad knowledge and experience in youth/young adult education and group processes
Demonstrated ability of facilitation and training design
Above average skills in public speaking, communication and organization
Excellent skills in relationship development
Demonstrated ability to plan, organize and implement programs and associated events
Demonstrated ability to achieve and measure outcomes
Proficiency in Microsoft Office 365 applications including Word, PowerPoint, Excel
Broad knowledge about Fort Worth, its history and culture
Broad knowledge of people and organizations in Fort Worth
Education and Experience:
Degree: College degree required in related field such as K-12 education, social work, training design & facilitation
Years of experience: minimum of 2 years required; 3+ years preferred.
Demonstrated experience with:

Youth/young adult education
Program management
Nonprofit organizations
Volunteer management
Working with diverse populations and familiarity with diversity, equity and inclusion practices

Other preferred experience: bilingual/fluent in Spanish
Physical Demands:
This position requires the ability to operate phones, computers, and other office equipment, and the physical ability to perform light lifting. This person must be able to communicate effectively, both orally and in writing, with others. Work is typically performed in an office setting. This person may be required to travel to various locations throughout Fort Worth and Tarrant County. Generally, the working conditions have little or no exposure to extremes in safety hazards or hazardous materials.
(These physical demands are representative of the physical requirements necessary for a Program Director to successfully perform the essential functions of the job. Reasonable accommodation can be made to enable people with disabilities to perform the described essential functions.)
Applications:
Interested candidates should submit a cover letter and resume via email to Sara Fairley-Luna, Program Director at sara.fairley@leadershipfortworth.org.
Learn more about Leadership Fort Worth by visiting www.leadershipfortworth.org and following us on Facebook, LinkedIn, Instagram, Twitter and YouTube.