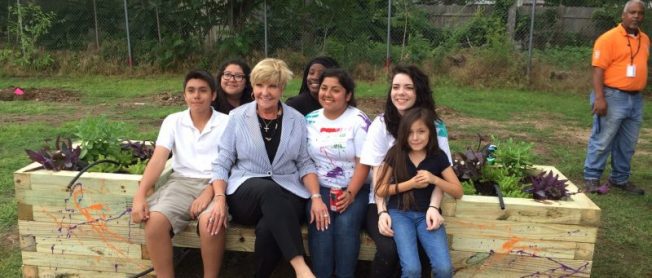 LeaderKids Events
June 14, 2022 | By LFW
PARENT/STUDENT ORIENTATION
Parents and students meet LeaderKids staff and TCU Student Mentor Co-chairs for an overview of the LeaderKids year.

FACILITATION TRAINING AND PROJECT MANAGEMENT TRAINING
TCU Mentors receive training in facilitation from Girls Inc. and additional training in project management from an expert in this field from Fidelity Investments.  Fidelity Investments will furnish LeaderKids with five additional project management experts to answer questions and guide LeaderKids in developing and implementing a service project in May.  LeaderKids will begin work on this project at the January meeting.

OPENING EVENT/ORIENTATION
TCU hosts the LeaderKids first meeting  "a mini Frog Camp experience".  LeaderKids meet students from 27 middle schools represented in the program and meet their mentors for the year – including TCU student leaders and Leadership Fort Worth members.  Focus in on learning new ways to communicate, build teamwork, improve oral presentations to groups, and explore career choices to utilize the talents and qualities our students develop.  The students are introduced to the Five Leadership Practices which are a major part of our curriculum.  This is done through creative activities and ice-breakers.  The Practices are:
Model the Way

Inspire a Shared Vision

Challenge the Process

Enable Others to Act

Encourage the Heart

LEADERSHIP SKILLS TRAINING
Students receive an overview of all five Leadership Practices at this outdoor low elements session.
The students learn how to work as a cohesive unit, make new connections, set goals, take care of others, adapt to reach goals, recognize how one's actions affect the whole, step into places of risk, encourage others and celebrate successes.

LEADERSHIP IN PUBLIC SAFETY
LeaderKids visit the new Bob Bolen Public Safety Complex to learn about careers in public safety and law enforcement. This is the new combined headquarters and training academy for the Fort Worth Police Department and the Fort Worth Fire Department.  Students learn about jobs in law enforcement and how to prepare for those jobs.  They learn information about social media, and how to safeguard information on Facebook, Snapchat and Instagram.  The Leadership Practice highlighted at this session is "Enable Others to Act".

LEADERSHIP IN SCIENCE AND TECHNOLOGY
LeaderKids explore the Fort Worth Museum of Science and History.  They will see the State Dinosaur of Texas discovered by children in nearby Glen Rose, Texas, tour the DinoLabs exhibit, see the 4-D exhibit Energy Blast, the Innovation Labs and the Noble Planetarium.  The TCU mentors will conduct activities to highlight the leadership practice "Challenge the Process".   We begin our service project planning with project management experts from Fidelity Investments and TCU Mentors.  Planning will continue at each monthly meeting until our project day on May 16, 2017.

LEADERSHIP IN HIGH EDUCATION
LeaderKids visit the Trinity River Campus of Tarrant County College in downtown Fort Worth. Our students learn they can study for dual credit classes while still in high school and can obtain a two-year Associates Degree.  Students tour the campus and hear from TCC students. This meeting will highlight the leadership practice "Encourage the Heart".

LEADERSHIP IN THE ENVIRONMENTAL AREA
LeaderKids visit the Botanical Research Institute of Texas (BRIT).  BRIT is an international scientific research and learning center focused on conservation and knowledge sharing.  This meeting will highlight the leadership practice "Model the Way".

LEADERSHIP IN SMALL BUSINESS/ENTREPRENEURSHIP
LeaderKids visit small businesses and entrepreneurs on Magnolia Avenue.  The students will learn what these business owners think are the keys to their success. They offer  "Words of Widsom" like:
Do what you are passionate about

Be yourself

Never stop learning

Surround yourself with good people

Don't be afraid to fail

Give back to and re-invest in the community where you thrive
LEADERKIDS IN ACTION
Beautification and Support of the FWISD Reading Enrichment Program
On Tuesday, May 16 LeaderKids will spend the day at Maude Logan Elementary School, 2300 Dillard St., completing a community service project.  Preliminary plans include beautification of campus grounds and creation of reading nooks to support FWISD's "100 X 25 initiative"  (with a goal of 100% of third graders reading at grade level by Year 2025).  LeaderKids will plan, dream, brainstorm, create, budget and prepare for the project from January through April with Fidelity project planning specialists.
Tags: LeaderKids